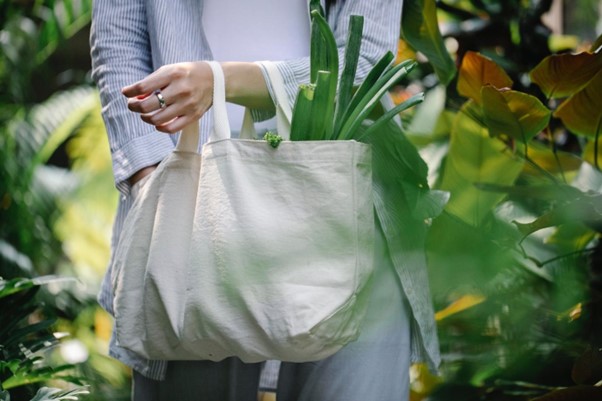 You can make cotton tote bags at a reasonable cost
Image Link: https://www.pexels.com/photo/woman-with-shopper-with-products-walking-among-green-plants-7263019/
Are you in dilemma, if totes would work for your campaign or not? Then don't forget to read this. This will give you some insight of totes to use for promotions. If you look around in the fair or any event , you would see totes many booths. Have you wondered why? Why would companies, colleges, schools would go for it, if it's not working. They are known to be fashionable, chic, and a superior addition to the bag collection.
Pros of Promotional Totes
1)Large Area for Print both on Front and Back, which makes excellent choice for advertisement of your as business name can be seen from far.
2)Logo can be printed in full color ,which makes it look very catchy and beautiful and eye grabbing.
3)Totes are very useful and versatile to use. It can be used for Grocery , lunchbox , market place. So it's kind of everywhere.
4)It comes with Pockets, Zippers to close the bag and also the big handles to carry.
5)Those are folding too, so it's very convenient to keep as it takes vary less space to keep.
6)It's eco friendly and are reusable. Now a days it's very important because of global warming. Those are very sturdy than plastic bag. and can carry lot of heavy stuff. Reusability feature make them extremely useful.
7)Some tote bags are ice cooler, which can be used to keep the food and drinks cold.
8)Most Importantly these are not expensive either.
Totes Usability
Zipper totes can be given to kids, so that things don't drop and are safe. Canvas bags can be used for weddings to fill the goodies. Also it can used for travelling, picnic , beaches because of its size it can hold a lot of stuff. It comes in different sizes and styles. Some tote bags are foldable and zipped and can be carried in the purse and open only when needed. There are totes for wines too. Those have compartments to carry the wine. Because of it its wide mouth, it can be used to carry laptop, provided totes are sturdy and handles are strong enough to carry that much weight. There are workplace totes too, they are available in different styles, colors. You can carry umbrella, lunch box and lots of other stuff in the totes to the workplace.
Be it an event or a movement for a cause – there are always items that need to be given to support and create awareness for it. A tote bag is a perfect item for it, especially if the event revolves around the environment. It is a smart way of marketing your brand/cause/event etc. It works well each time (given that the branding - text, logo, etc., is done properly). It helps to create curiosity and get the message across. It is one of the most common marketing approaches that foundations, charity organizations, and businesses take.
Cost of Promotional Tote
There are different price range for which totes can be bought. Cost depends on the size, thickness, material, and the purpose. Bigger size doesn't necessarily convert to higher price. Bigger totes might cost less if it is less weight and cannot carry too much weight. Canvas bags weigh higher because of its thickness. There are so many stylish totes available in the market, which is hard to resist. For promotional Tote ,logos or text is imprinted on the tote either by silkscreen, spot color or 4 color process. That might cost extra. One Color printing generally doesn't cost , multi color printing will cost more. Good thing about promotional tote is you can save money by ordering in bulk.
Tote Bag Design Ideas
You can print almost any design on the totes, that too in many colors. People like to print quotes, slogans, characters ,cartoons and so on. Companies can print designs on tote which represents company ideology and it will help people to remember company details. For events like career fair, trade show or any other promotional event, It is noticed that funny or cheerful print on the tote make crowd smile and attract them at your booth . People talk about it and pull the crowd to your booth. Totes are available in many colors, which can be chose to represent your company needs.
How Sustainable Are Totes?
The increase in production and consumption was augmented by the various statements indicating disposable bags were not good for the environment, and replacement tote bags were a much safer option. Many countries over the years have moved completely towards tote bags and refrained from making plastic shopping bags. Cotton tote bags, in comparison, have displayed numerous benefits for all and are one of the most reasonable totes to produce and distribute.
Let's get into how sustainable tote bags are for the environment.
The most sustainable is a cotton tote. Since the environmental benefits of totes, it has grown significantly in demand. Several stores offer all types of totes for customers to buy and some as shopping bags. Designers have taken the best of the trend and put their touch on it, increasing its stylishness. Totes are handed out as advertising gifts by nonprofits and businesses. A gesture that sends a message of conscious consumption and awareness of the brand.
A cotton tote is most preferred by the customers and is the star among all totes. It is mostly due to the way it is made. These reusable bags are clean and can be washed and ready for use whenever you step out of the house. It helps save you from piling up plastic bags in the house. It saves space in your car; instead of multiple plastic bags, you can take one tote, and you're good to go. These are extremely convenient and perfect for carrying different things. Whether you're going out for groceries, window shopping, to the beach, or have an event; these cotton tote bags are an ideal choice.
Cotton Totes Benefits
Cotton Totes are versatile – you can use them for shopping for books, clothes, food, or anything you need to carry. They pose no harm to individuals and thus can store all types of items. These bags are eco-friendly and can be recycled with ease. Cotton totes do not cause any allergies or skin-related problems that can arise with other materials when exposed to the skin. The color or dye used to print the logos, or any text for branding can easily be removed thanks to the chemical-free colors/dyes used.
Cotton totes are one of the safest options for people with allergies and skin issues. These totes are perfect for small or large businesses as they don't cost much and convey the message to the customers. The non-woven polypropylene material is resistant to stretching and shrinking and doesn't retain water. An eco-friendly tote is used to get plastic bags out of circulation. The best part about this bag is that even if it gets worn out, it is still like an additional piece of clothing that you have and can make use of.
A cotton/non-woven tote bag will not cost you much. It is one of the most affordable promotional items your brand can get the most out of. Several brands in the market make tote bags and create a wide variety to choose from. Choose what your brand needs – say, for example, if your brand is all about sustainability, then a cotton tote bag should show that. It should be light, free of plastic, and have a bit of a green element in it. It will help get the message across and allow you to raise awareness accordingly. Similarly, if your brand is chic and high-end, you can go for net or drawstring totes that'll add some extra personality to the tote.
Getting a free cotton tote bag is a blessing if you're at an event and have a lot to carry. Even though it is recycled and reused, a cotton bag is much stronger than a plastic bag. If the tote happens to be well-made, catches your eye, and is free, what more do you need? Every company should always make it a point to distribute customized eco-friendly totes at every event. It is one of the most effective ways to register their brands in the back of the client's mind. It allows clients to carry their stuff and a regular-sized tote gives the brand enough space to promote effectively. And it is extremely easy to carry everywhere. Make sure you go for the ideal size, which is not too big or small.
As per technavio Report Tote Bags Market Growth, Size, Trends, Analysis Report the predicted growth for the tote bags market share from 2021 to 2026 is USD 7.47 billion at a progressing CAGR of 6.37%.This tote bags market forecast report covers segmentations by Distribution Channel and Geography.
All these features make totes popular for the campaigns like Tradeshow, Corporate Giveaways, Career fair Giveaways. There are so many promotional activity can be done to grow your company. Giving away will be one of it.